On Monday, May 23, in the crypt of St. Sava Church in Vracar, Belgrade, with the blessing of His Holiness Serbian Patriarch Porfirije, organized by the Diocese of Zahumlje and Herzegovina, a presentation of the book "Atanasije—A Life Story" was held. This book was written by the Bishop of Western-America Maxim, published by the Tvrdos Monastery and the newly established "Foundation of Bishop Atanasije".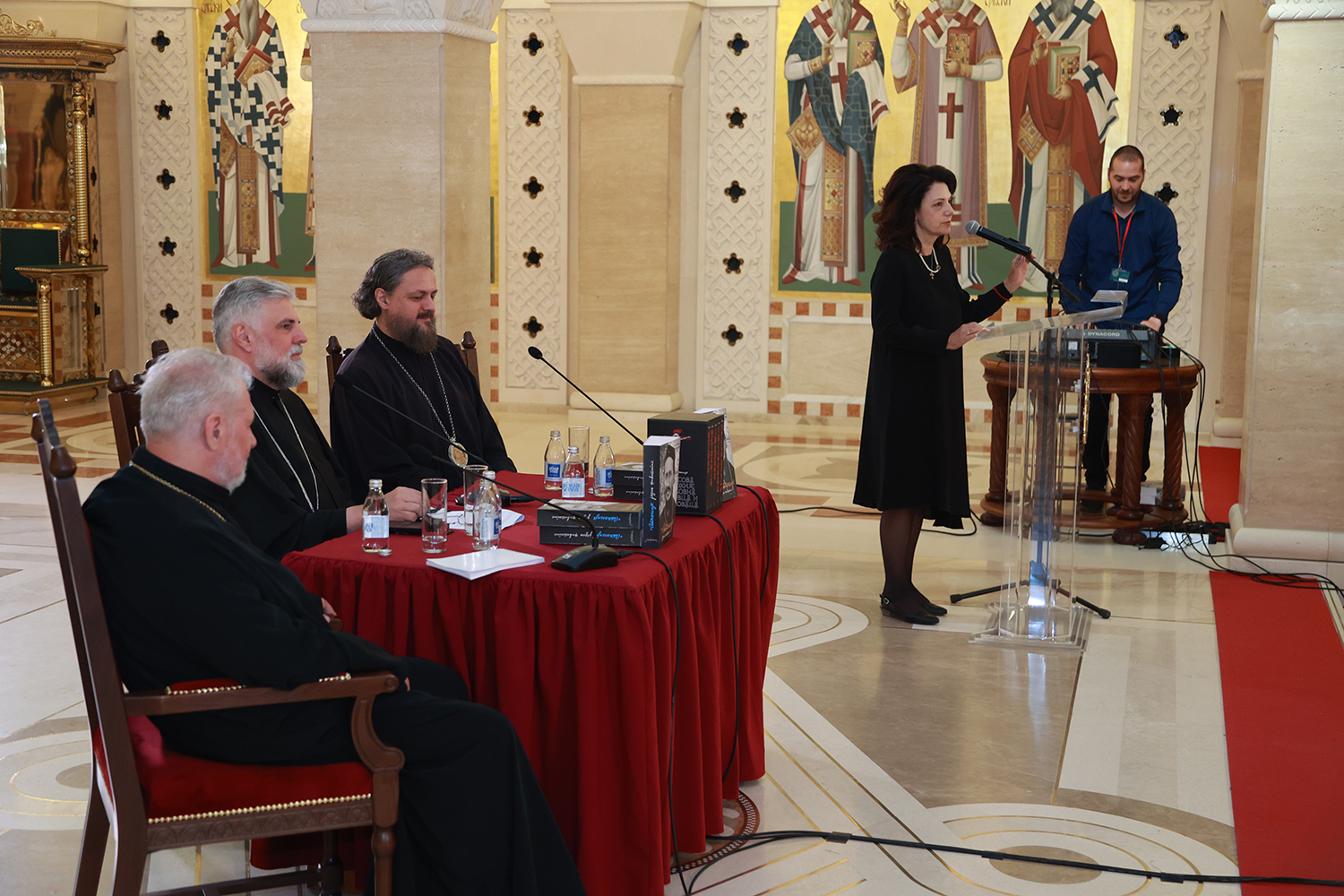 The evening was opened with welcoming words by the newly elected Bishop of Western Europe, Justin, conveying the Patriarch's blessing and paternal greeting of His Holiness. He also called this presentation of the new book about one of the greatest Serbian and all-Orthodox theologians of our century, a book about a father, teacher, bishop, and man of God—Atanasije Jevtić, an important and sublime event of our local Church. "May the prayers and zeal, efforts and love, faith and hope, truth and courage, righteousness and piety of Bishop Athanasius, of which this book so impressively testifies, bring us all, my dear ones, into the arms of the Heavenly Father," said Bishop Justin.  The Bishop of Braničevo, Ignjatije, the Bishop of Düsseldorf and Germany, Grigorije as well as the author himself, the Bishop of Western America, Maxim, spoke about the book itself, but much more about the authentic and unique personality and work of Bishop Atanasije. The interest in this spiritual event was exceptional, since a large number of listeners watched the presentations while standing. The promotion was attended by the Bishop of New Gracanica-Midwestern America, Longin, Bishop of Eastern America, Irinej, Bishop of Zahumlje-Herzegovina, Dimitrije, Bishop of Marcha, Sava, clergy and monastics, Prince Filip Karadjordjevic and Princess Danica, academic Matija Beckovic, prof. Dr. Vladeta Janković and others.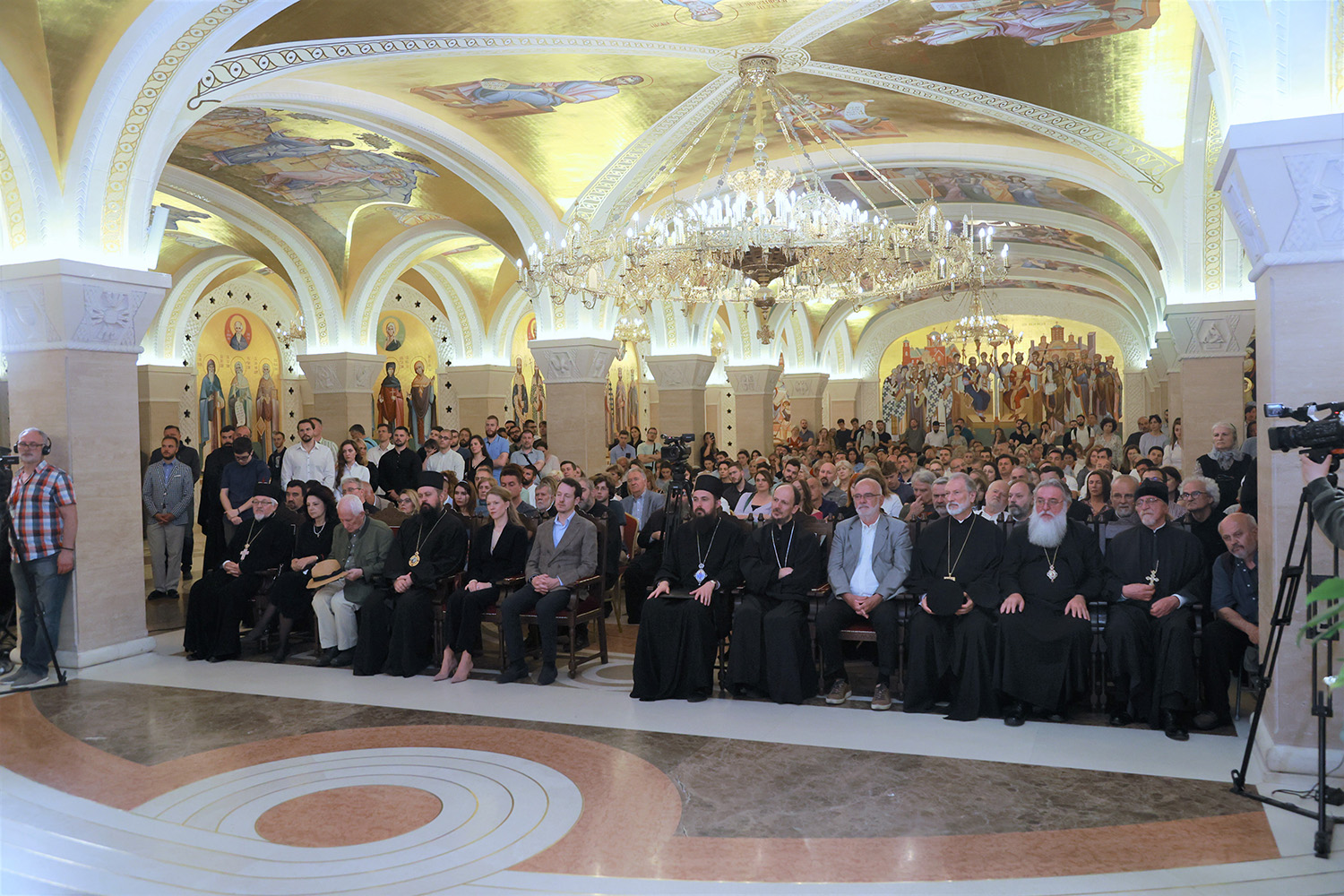 The promotion itself was very interestingly designed, in the form of a dialogue of participants, moderated by Bishop Grigorije, so that the speakers constantly continued and supplemented the presentations of their predecessors, in the spirit of the words that ended the book—"a comma is our life, we are moving forward, the life continues in eternity." In the play of words and pictures, the speakers brought the listeners closer to the impressive moments of Bishop Atanasije's life and were often interrupted by their applause. Thus, we single out the instructive thoughts of Bishop Ignjatije, who explained in detail the relationship between eschatology and history with the example of the life of Bishop Atanasije, noting that his entire theology is a synthesis and continuation of the theology of the Church Fathers. He shared Bishop Atanasije's spiritual experiences of conversations with ordinary "little" people, talking about the nearness of God in their prayers, as well as the sincerity and warmth of those personal prayers. He said that Bishop Atanasije always insisted on the freedom of the other, and that we should build every relationship without violating that freedom. "We can love someone, but we must not hold captive anyone with that love, so everyone must be completely and unconditionally free from us, because God has given us just such freedom." Bishop Grigorije conveyed to those present that the book was made up of a small part of Bishop Atanasije's life, from the moment when we were left with the records, correspondence and testimonies of many people who had the opportunity to experience meeting him. From all these testimonies, we can report a common conclusion which is "that the most common outcome of the meeting with him was a turning point in the lives of many." He added that if we tried to describe him as a person, we could say in short: dedicated and honest. "In this world, there are few who are crowned with these two virtues, because it is enough to tarnish devotion and trample on sincerity only once, so that you would not be called devoted nor sincere. When we offer devotion and honesty as virtues to Christ, as a result we get the endeavoring that Bishop Atanasije gave to his Mother Church. He deservedly bears the epithet of the father and teacher of the Orthodox Church, having acquired that epithet, writing, speaking, reading, and preaching in many places and in many languages. We can freely say that the bishop became a source of theology and a true theologian."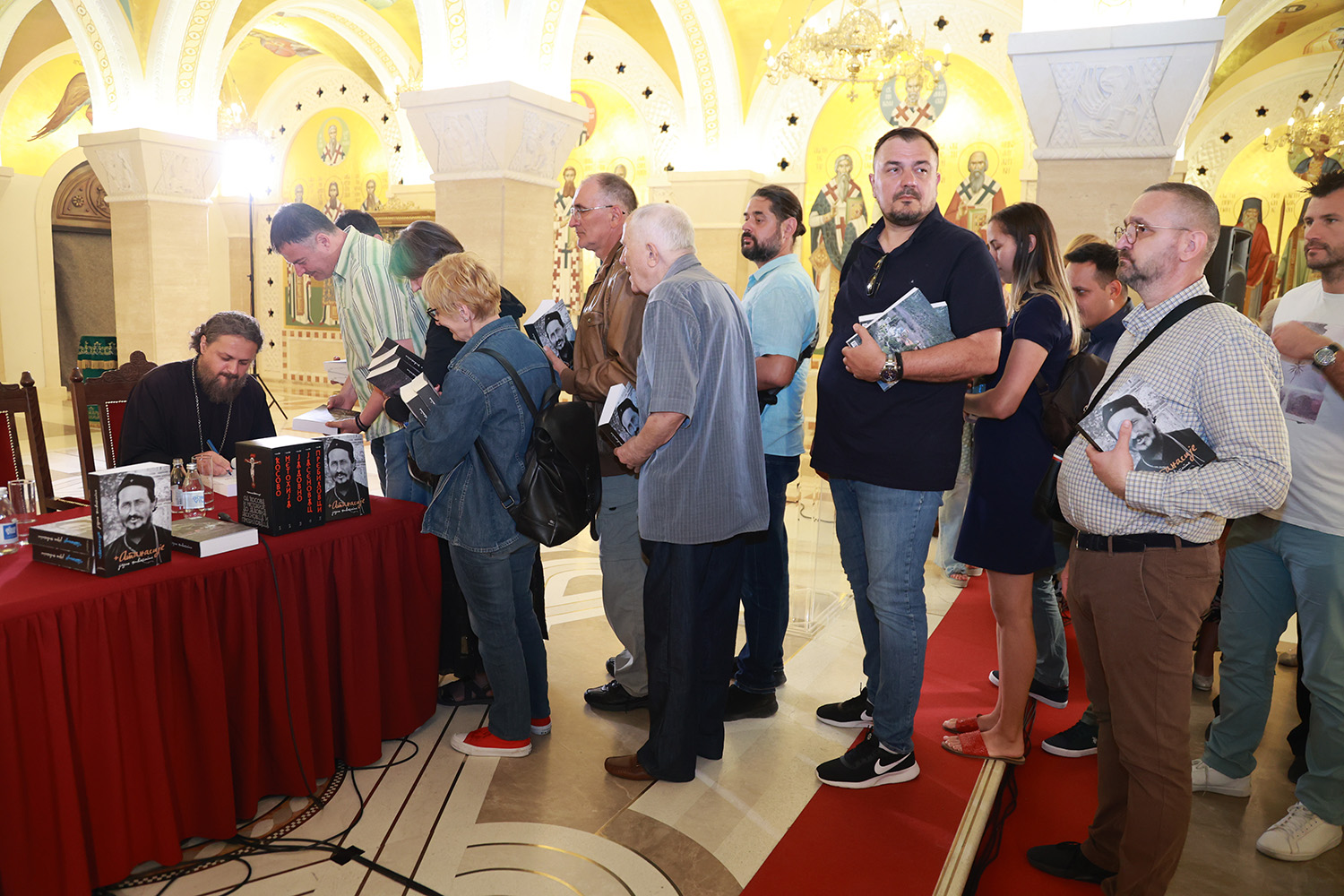 Citing numerous examples of the personal experience of faith of various people described in the book in the meeting with Bishop Atanasije, Bishop Gregory testified about the uniqueness of the breadth of spirit and the originality of the spiritual expression of Bishop Atanasije, which testify to one thing, that he approached every man in his life as a special person, created in the image and likeness of God, saying that every man is a theologian if we work on our souls. The audience was left with a striking example from the personal experience of Bishop Grigorije, who seeking consolation for the loss of a loved one from Bishop Atanasije, received a life lesson that "no love will go to waste." He shared with the listeners his vision of holiness, stating that for him, a Saint is a man in whom everything is boiling inside, and he is calm on the outside. "And he (Bishop Atanasije) was restless on the outside as well, so as not to lead others to compare him with the saints. It was his humility and his acting as a fool for Christ in a sense."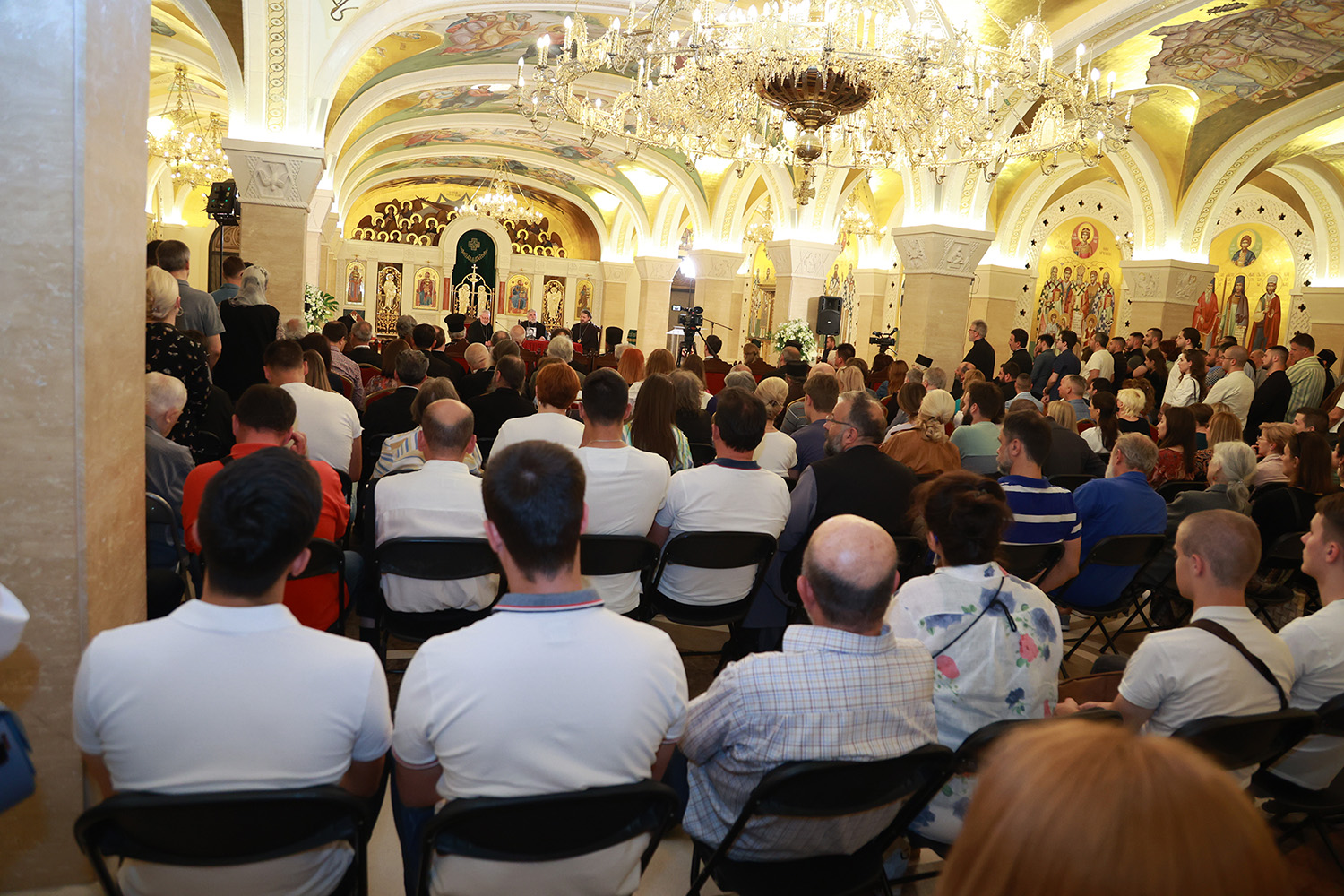 The author of the book, Bishop Maxim, also said on several occasions that Bishop Atanasije was a man, an event! "This is how we experience him by associating with him and sharing both the daily bread and the bread of the Eucharist. His sensitivity to natural beauties was an indicator of how we should treat him. He said that geography was in the legs, and the Holy Land was for him a sacred topography and eschatologized history. His power of storytelling was irresistible, and it amazes how much erudition he had! This combination of knowledge and prayer is what captivated and continued to captivate the readers of his work", said Bishop Maxim, who in his books collected a number of signposts and landmarks found along the spiritually vivid journey of Bishop Atanasije of Herzegovina, and numerous details that outline his portrait more clearly. "It is difficult to summarize and describe succinctly what this spiritual and complex figure means for modern man. In order to understand the breath and depth of his character, we must adopt different angles of vision and, doubtless, different standards of measurement. Hence the need for a book that would serve as a guide through his journeys.". Bishop Maxim added an important detail, Bishop Atanasije through his words never taught us the technique of prayer, such a notion was foreign to him, but he worked tirelessly, constantly abiding in prayer. He successfully transmitted this example of living creative prayer fervor and keenness to everyone around him, and for him it was very important to draw the listeners' attention to it. One of the most impressive moments of the promotion happened near the end when, with the blessing of Bishop Grigorije, the speakers were joined by Dr. Sanda Raskovic Ivic, who shared two tremorous moments from her acquaintance with Bishop Atanasije, both related to his living love for the sick and needy, by which in her words, "he taught us all what love is and what devotion is" to another person.  The impression of all those present, after this evening of remembrance, is that Bishop Atanasije continues to teach us love and devotion, through living witnesses who lived with him his theology, communion in the Church and pouring himself out in prayer before God.
Presbyter Borislav Petric
[Translated by Protopresbyter-Stavrophor Bratislav B. Krsic]